Fresh Faced from Nanai Road, Hello Patong, Phuket!
There's nothing quite as exhilarating as stepping out on a fresh foot and a fresh face ready for the excitement that the oncoming high season brings! We're going to test drive our new look this low season with expressive enthusiasm! Join us! It'll be fun!
Change. That is most definably what we were after here at Roots Rock Reggae Bar & Shop. The need to Revolutionize they way people think about reggae bars and pubs in general. Keep our doors open to everyone who enjoys a fantastic chill out scene. With so many places willing to succumb to the void of bland mediocrity, it's time to step it up. What we're trying to say, is that not all reggae bars are equal nor need to look and act the same. We are most defiantly in this to bring you what everyone else doesn't have.
Atmosphere. It's important to us that the good vibes greet you when you walk in. Welcoming you to choose a place to sit that will become your favourite seat. Selecting a cold beverage from our unique menu or ordering up your standard go to drink that hits the spot on a hot evening. With the music playing let our sunshine soak in and move you, groove you and most of all, bring you to your happy place.
Off the Beaten Path. For good reason! Being away from it all tucked in the comforts of Nanai Road has been good to us. We enjoy the seclusion of the jungles of Patong Beach! Much gratitude to everyone who insists on finding our place. Your efforts fill our cups with the reward of being apart of your experience here in Thailand. Thank you!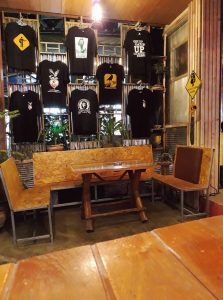 Boy is very proud to announce that the major renovations are complete. We'd (Boy and I) would love to extend our appreciation and thanks to everyone involved with this overhaul. Thank you to our uncles from Trang for coming up to Phuket and doing the major part or the renovation as they did last time we renovated. Thank you to our staff for using his building skills from his previous employment. And to you, our valued customers, regulars and diehards for your patience while we make the changes.
We Welcome all of you to come check us out and enjoy yourselves! It's our pleasure!
Have an Irie Day!